Home >> Articles >>Right Time To Replace The Cylinder Liners
---
Problem Arises When You Don't Know The Right Time To Replace The Cylinder Liners
The liner of the engine is responsible for ensuring no damage caused by the extremely hot exhaust to the internal components of the engine. Due to its major feature, using replaceable cylinder liners can save costly machine work and time. But most of the users don't recognize the right moment to replace the old worn liners. It's all start with the examination of your engine. You can leverage on following procedures and remove and clean your cylinder liner with an ease.
If when you check the liner, you find any of the following conditions
The initial thing you need to do is to recognize the type of liners you are having. Cylinder liners come in two varieties- dry and wet. Dry liners do not need a water seal and you can easily pull them out, whereas wet liners have grooves cut into them for fitting O-ring seals to avoid leakage of water into crankcase.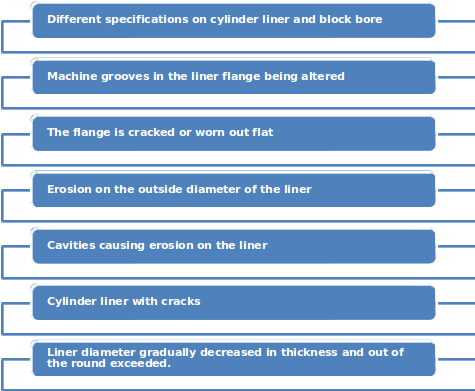 It is advisable to follow simple guidelines while removal of cylinder liner as any damage to the liner or block may be a costly affair for you. You should note whenever the liners are taken out from an engine. If you are reusing the liners, mark them so that they can be installed in the cylinders from which you have taken them out. If you can't perform installation at the time, lightly oil them with clean engine lubricating oil and store them upright in the dry and clean place.
You should inspect the liner after cleaning it to find cracks, scoring, or fretting with an ease. If you find one or multiple cracks or fretting or scoring, you should replace the liner with the new one. Else, continue looking for cavitations erosion on the liner. Erosion leads to poor performance and maintenance of cooling system. If it is not repaired or if you ignored it, cylinder liners will get holes that further cause combustion gas to blow water out of the radiator. So, you must replace your cylinder liners when you find any cavitations.
These are few ways to know when to replace the cylinder liner. You can follow more of such ways as shared by your vendor. It is always advisable to call experts for servicing and maintenance assistance. Genuine reviewers for this story are welcome. Let us know if we can add more points to it.